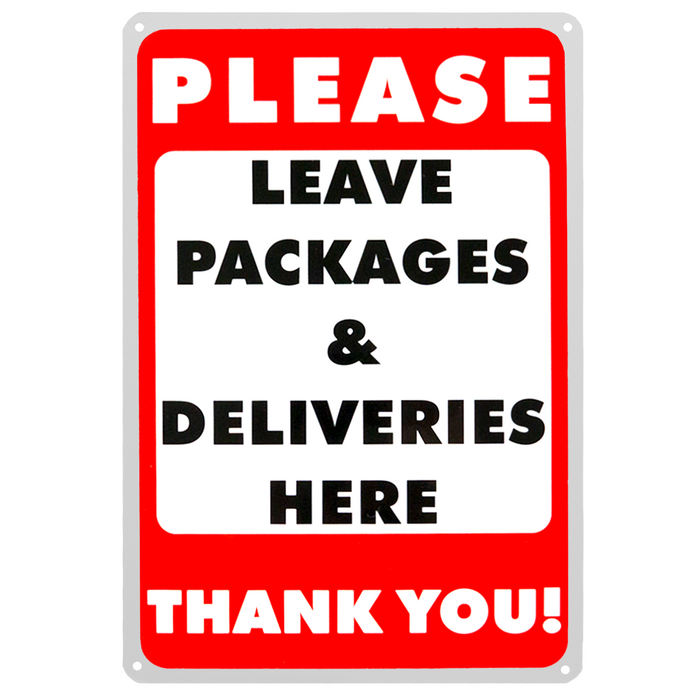 BP1 - Package Delivery Sign for Home, School, and Offices
Please Leave Packages and Deliveries Here Sign - 8'' x 12'' Leave Packages Here Sign Aluminum Delivery Sign - Weather Resistant, Rust Resistant, UV Resistant Small Delivery Sign for Door & Porch
CLEAR & NOTICEABLE: Our 8 x 12 inch delivery door sign consists of red designs and texts in all caps, so the delivery drivers know where to leave package and you will not have to spend time finding your online package delivery!
DURABLE MATERIAL: Made of high quality aluminum, this laminated package delivery sign is weather resistant, rust resistant, and UV resistant. The package drop off waterproof sign is great for home, business, schools, and more!
EASY TO INSTALL: This delivery signs for home comes with four pre-drilled holes for outdoor package delivery directions. In addition, the rounded corners provides safe handling during installation. (Hardware not included)
REFLECTIVE SURFACE: The aluminum texture of this mail delivery sign will illuminate when light sources hit the surface, making the words readable even in evening or at night so your delivery instructions are loud and clear.
SOCIAL DISTANCING: In these challenging and uncertain times, it is crucial to keep a physical distance. Use this delivery boxes drop off sign to minimize outside contacts to keep yourself, your family, or your coworkers safe.