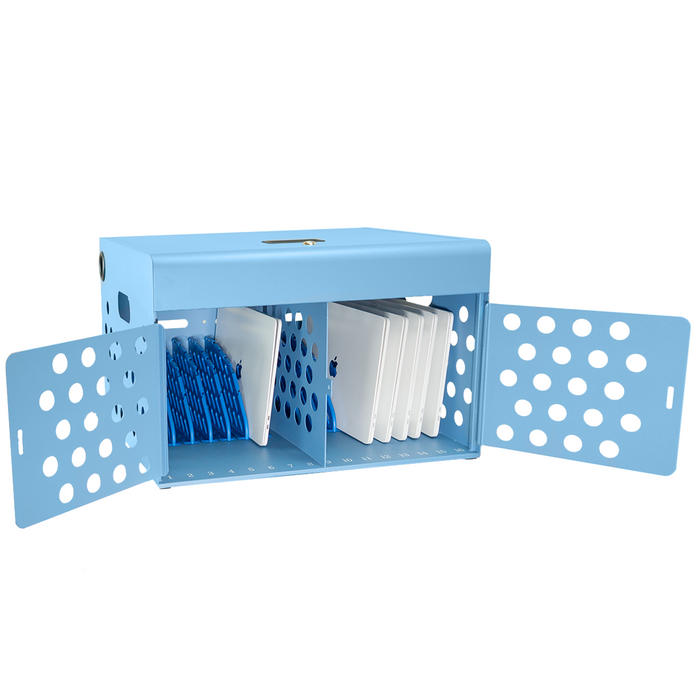 C16B-B - Locking Charging Cabinet for Chromebooks, iPads, and Laptops
FULLY ASSEMBLED UNIT: Our 16-unit charging cabinet for multiple devices will arrive at your door fully assembled. No need to spend hours on complicated assembly steps! Simply take the Chromebook cart out of the box and you can immediately charge your devices.
WALL MOUNT OPTIONS: With built-in design for wall mounting, our locked charging station can either be stationed on the wall or set flat on the surface. Our storage and charging cart comes with tools so you can easily mount the ipad cabinet to the wall.
FITS UP TO 17'' SCREEN: Whether it is a small iPad, notebook, Chromebook, or big laptop, we guarantee it will stay safe and secure in this charging cart for tablets. Store and charge 16 devices (up to 17-inch and 1-inch thick) in this charging locker!
NO MORE MESSY CORDS: With cord management located in the top cover and the dividers, you will never have to be frustrated over tangled cablesagain. Our user friendly design will keep your cables secure, neat, and organized in this Chromebook charging cart!
CHARGING STATION LOCK BOX: Whether you intend this to be a Chromebook holder for classroom or an iPad storage and charging station, this laptop charging cabinet can be locked to prevent unauthorized usage. The combination lock can only be opened with correct passcodes.