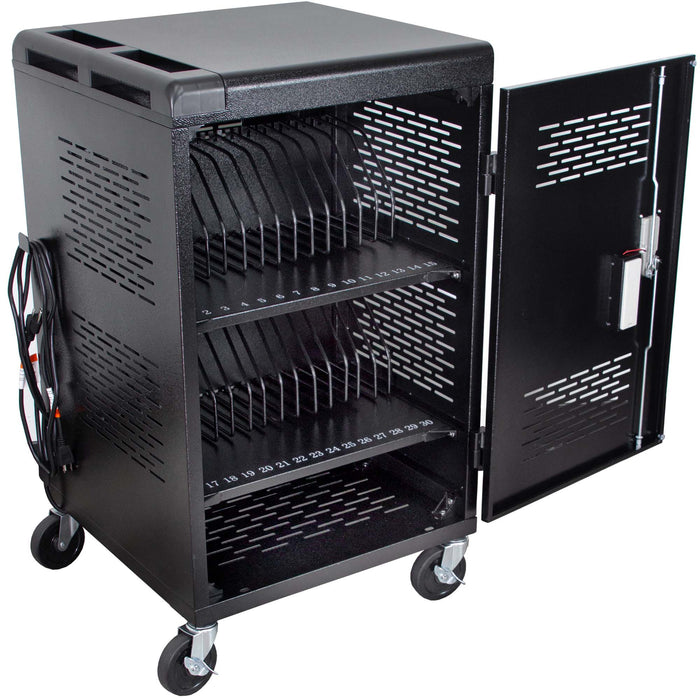 C30C-H - Charging Cart with Electronic Keypad for 30 Devices
30-Device Laptop Charging Cart for Chromebook Storage - Classroom Charging Station for 30 Chromebook, iPad, and Laptop Under 14'' Screen - Laptop Charging Station with Two 15-Outlet Power Strips
30 DEVICE CHARGING STORAGE CART: Don't let low battery ruin your important moment in class and during meetings! With storage space for 30 devices and two 15-outlet vertical power strips, POCHAR's mobile classroom storage charging cart can help you ensure that your laptop and tablet are fully charged at all times.
KEEP UNAUTHORIZED USAGE AWAY: Our classroom laptop storage comes with keypad lock in the front, and secured latch in the back! This computer charging cart can only be unlocked using the correct passcode or the designated key, so only authorized personnel in your school and office can have access to the devices inside.
EASY ORGANIZATION: Both the front and back doors of our laptop rack for multiple laptops can be removed, so you can manage your tablets without having to constantly pushing the swinging doors. In addition, this classroom storage cart comes with 5.5-inch compartment in the bottom, which offers enough space for 30 chargers.
FITS MOST DEVICES: This locking charging cabinet is designed for common devices in classrooms, including Chromebook, iPad, and laptop under 14'' screen size. The dividers contain enough amount of flexibility to hold devices with case or cover. If you prefer more storage space, the dividers can be removed for your convenience.
SMOOTH WHEELS WITH BRAKES: Transport this tablet charging cart effortlessly with our scratch-free wheels and built-in ergonomic handle! When you need your laptop cart stand to stay still, simply use the brakes on two of the swivel casters, and the locking mechanism on the heavy duty wheels will keep your cart in place.