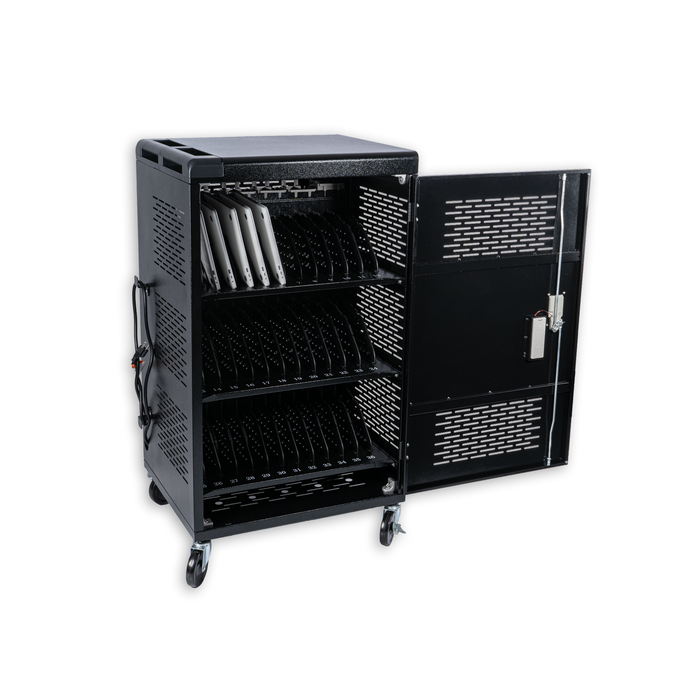 C36C-H - 36 Bay Intelli-Sense Charging Cart for Tablets, Laptop, and Chromebook, Classroom Locking Charging Station with Keypad Lock and Charger Storage for School, Classroom, Library, Office and More(Black)
36 DEVICE CHARGING CART: Store, lock, and charge up to 36 devices with POCHAR's C36C-H mobile laptop cart. Our lockable computer cart fits 14-inch screen size and 1-inch thick devices, including Chromebooks, laptops, and tablets.

INTELLI-SENSE CHARGING SYSTEM: The Intelli-Sense Smart Charging System has been crafted with the purpose of enhancing the efficiency of your device charging experience. By identifying priority devices in need of a charge, it then adeptly distributes energy to guarantee that all devices are ultimately charged to full capacity.

NO MORE UNAUTHORIZED ACCESS: This laptop storage rack for multiple laptops has a built-in keypad lock on the front door and a key lock on the back door. Your devices will be securely locked inside our 36 bay laptop charging carts.

WHEELS WITH BRAKES: Our computer cart with wheels comes with full-swivel casters for smooth movement and transportation. Two out of the four swivel wheels have locking brakes to keep your school storage cart secure when stationary.

REMOVABLE FRONT AND BACK DOORS: The doors on this laptop cart with wheels can be completely removed for easy organization. No need to keep pushing the door back and forth when you are working on cable organization and charger storage.

CLEAR ASSEMBLY STEPS: Our C36C-H mobile charging storage cart has an assembly video with detailed instructions. Simply follow the steps in the video and you can start using your lockable tablet charging station shortly after unboxing.