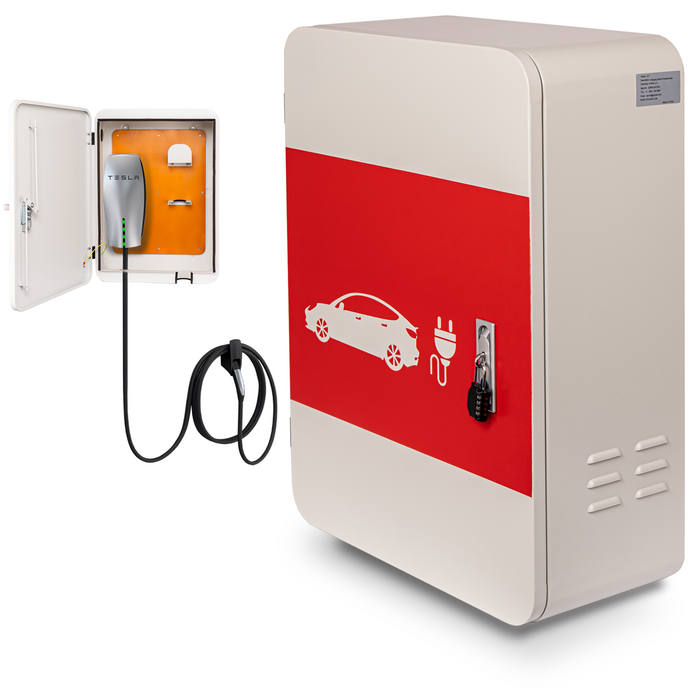 CT1-W - Tesla Charger Station Box, 28'' x 20'' x 10'' Indoor Outdoor Cable Box Charging Box Cable Organizer, IP66 Waterproof Dustproof Cool Roll Steel Electrical Enclosure Box, for Tesla Wall Connector
🔒BUILT TO LAST: The tesla charger station box is meticulously crafted from 0.05'' / 1.2 mm cold-rolled carbon steel made by precise cutting and welding. It has stronger wear resistance and keeps your EV charger well protected. Outer Dimensions (H x W x D): 28 x 20 x 10 in. Inner Dimensions(H x W x D): 27.7 x 19.5 x 9 in.

🔒REINFORCED LOCK & HINGE: The outdoor cable box adopts a combination lock to eliminate the risk of key loss and theft, increasing security and lockability. The high-strength hinge ensures that the door is not easily damaged or broken due to squeezing.

🔒WHAT CAN I DO: Truly the perfect accessory for your Tesla charger/ home charger station. It is a simple addition that will have a huge impact to the outlook of your garage. Designed with the intention of keeping your space organized and to protect your Tesla Charger from damage.

🔒HASSLE-FREE OPERATION: Are you tired of complicated accessories and disorganized messes? Well, look no further! The charging station box is equipped with a detachable iron mounting plate, complete accessories, and six mounting holes for easy installation. With cable organizer, and charger holder to keep cables and power supplies secure and tidy.

🔒WATERPROOF & BREATHABLE: The rubber strips, drainage channel, and an IP66 protection level make our outdoor charging station waterproof and dustproof. Multiple air outlets on both sides provide effective heat dissipation after prolonged use. Ideal for garage, parking lot, etc.