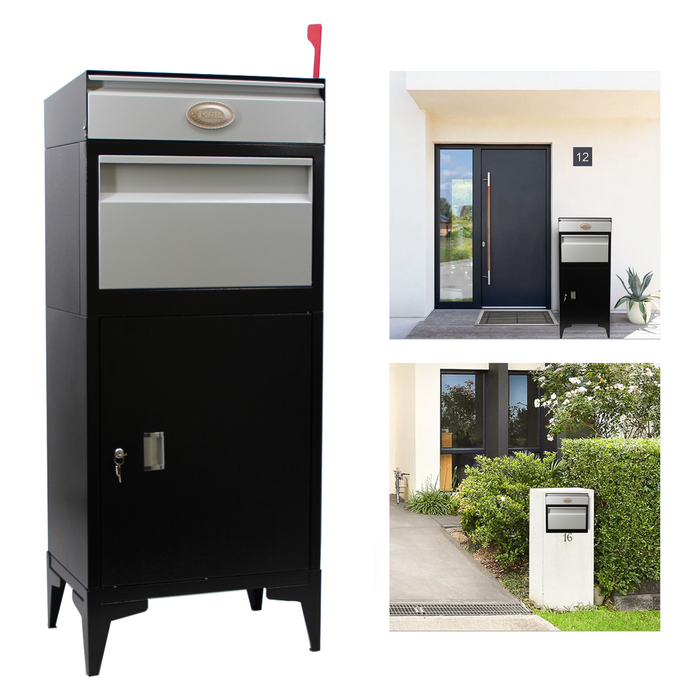 Pochar Large Package Delivery Boxes for Outside, Extra Large Mailbox for Parcel, Alloy Steel Post Mailbox, Wall Mounted Lockable Anti-Theft for Porch, Curbside | 14.25" D x 20.5" L x 47.5" H, Black
🏡PROTECT YOUR PARCELS: No more worrying about parcels thefts or missing deliveries; Whether you're at work,on vacation or business trip, your delivery will be safe and sound in our parcel drop box when you get home. Pochar parcel box is also equipped with an envelope delivery port, so the letters, magazines and large envelopes can also be delivered to our parcel drop box for porch.

🏡HIGH QUALITY: Our wall-mounted delivery box for packages are made of durable stainless steel for strength and durability, and painted to effectively prevent rust, scratch-resistant finish.This parcel box will provide long-lasting strength and use throughout the years while ensuring that your package is intact.

🏡SECURITY & ANTI-THEFT: The delivery box come with a sturdy security key lock and anti-theft system. The delivery port cannot take out the package, and When the courier puts the parcel into the chute, it will automatically enter the storage cabinet below, and only use the key to open the cabinet door.

🏡LARGE CAPACITY: The size of extra large mailbox for packages is 14.25" x 20.5" x 47.5" , Pochar parcel box can store most of the parcels, letters, magazines and large envelopes, and it is practical.

🏡OPTIONAL WALL MOUNT: Our secure mailbox for outside comes with pre-drilled holes and hardware, so you can choose to mount this lockable drop box on your wall.