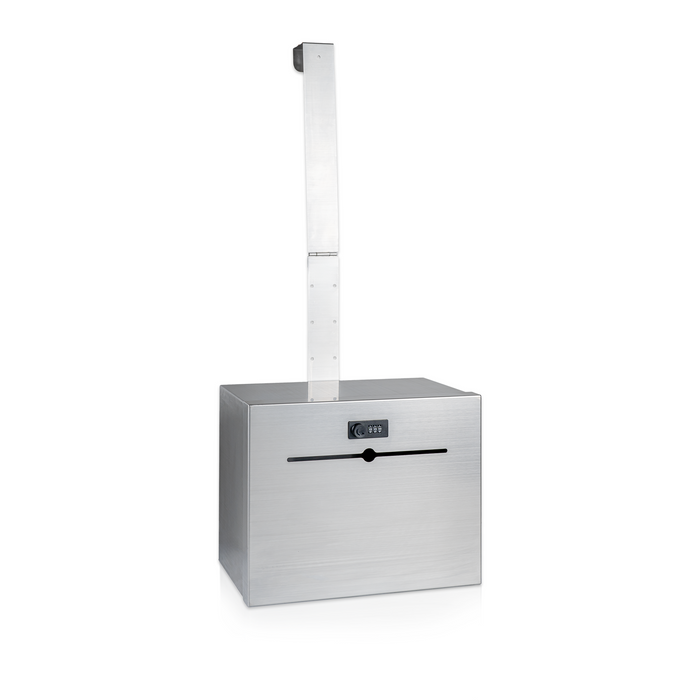 D22S - Over-The-Door Stainless Steel Box - Specimen Containers, Payment Drop Box, Key Drop Off Box, Night Drop Box - Height Adjustable Range, Removable Hinge for Wall Mount(Silver)
HANGS OVER THE DOOR: No need to cut or drill a hole on your door! Simply attach the removable metal hinge using the hardware included, and you can start using the metal lock box immediately. This combination lock box can be hanged over office doors or house doors up to 1.75" thick.

SECURE MAILBOX: This locking box with combination lock can only be opened with the correct 3-digit passcode, so unauthorized personnel cannot access the items inside. The mail slot in the front is only designed for receiving items, and the small space makes it impossible to fish out the objects inside.

ADJUSTABLE HEIGHT: The removable hinge on this over the door drop box can be easily adjusted to your desired height. The adjustable range is 6.5 inches - simply use the screws and washers included in the package to set the hanging mailbox to the height that suits your need.

FITS DAILY SMALL ITEMS: With an exterior measurement of 14'' (L) x 6.3'' (W) x 10.6'' (H), this locking dropbox has a storage space of 463.6 cubic inches, securing standard sized specimen tubes, keys, mails, checks, and cash, which makes this steel dropbox perfect for both residential and commercial use.

DURABLE MATERIAL: Made of brushed stainless steel, this heavy duty metal lock box provides great protection for valuable and private items, including specimen, rents, keys, and cash. The edges are carefully designed and manufactured, so this over door dropbox cannot be pried open by force.