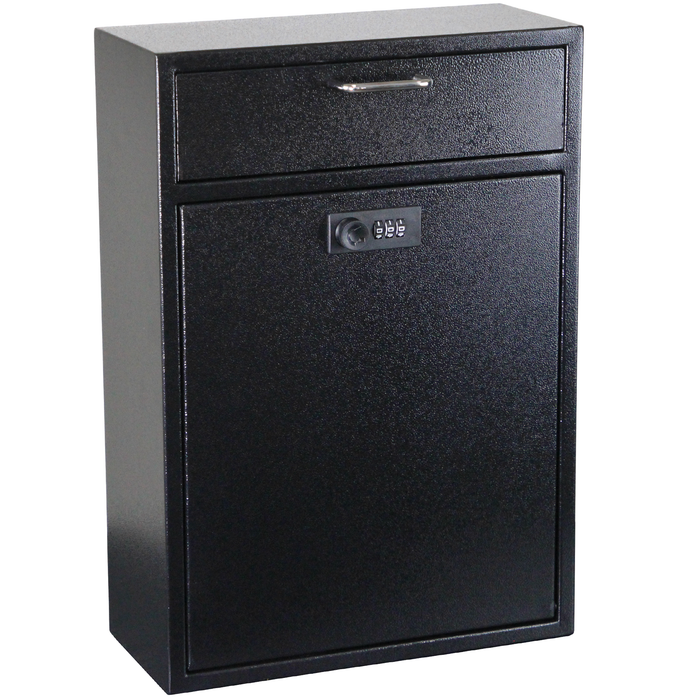 D4L-H - Large Locking Mailbox with Combination Lock
🔑 DURABLE MATERIAL: Made of heavy-duty galvanized steel, this locking mail box provides great security and protection for valuable items. The protective zinc coating prevents rusting of the surface, making this night drop box the ideal secure mailboxes for business.
🔑 EXTRA LARGE STORAGE: The locked mailbox has an exterior dimension of 11'' (L) x 4.75'' (W) x 15.75'' (H), giving it plenty of space for items such as letters, mails, and keys. This all-purpose security mailbox is great for both business and residential use.
🔑 SAFE & SECURED: The anti theft mailbox comes with a built-in combination lock, and the mail slot cannot be pried open. In addition, the anti-fishing design will keep the items safe and secured, such as mails, rent checks/payments, keys, or other small objects.
🔑 WALL-MOUNT BOX: This wall mount mailbox with lock is designed to be installed on walls of offices, schools, and home. Simply use the hardware provided to mount this lockable mailbox, and the wall mount locking deposit drop box safe can be used immediately.
🔑 FOR MULTIPLE LOCATIONS: This wall mounted locking vertical dropbox mailbox is ideal for residential deliveries, schools, office, home, mail centers, restaurants, key drops, and much more! The modern design of this hanging lockbox looks great in various locations.
🔑 COMMERCIAL & RESIDENTIAL: Whether you want to use this locking dropbox as a key drop off box for your office, a payment dropbox for your business, or a hanging mailbox with lock for your home, this lockable mailbox wall mount is suitable for both home and business.