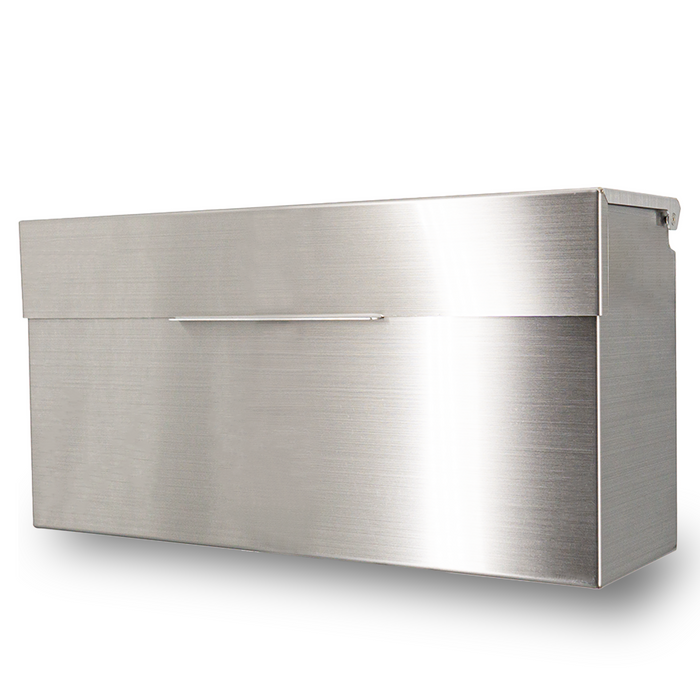 DB20 - Stainless Steel Mailbox Modern Mailbox for Outside
Stainless Steel Mailbox Modern Mailbox - Waterproof Rust Proof Steel Wall Mount Mailbox
✔️ RUST PROOF STAINLESS STEEL: Made of brushed stainless steel, this metal mailbox is rust resistant and long-lasting. We applied friction to the surface to protect it from corrosion and wear, and to prolong the lifespan of this modern wall mount mailbox.
✔️ WATERPROOF AND RAINPROOF: Our waterproof mailbox has folded edges covering the top of the stainless steel wall mount mailbox, so raindrops will drip down naturally and not get inside the mail box. In addition, we include a rubber mat to keep moisture away.
✔️ LARGE STORAGE CAPACITY: With an exterior dimension of 14.75'' (L) x 3.75'' (W) x 7.25'' (H), our mailboxes for outside wall mount is great for receiving magazines, newspapers, letters, and mails on a daily basis, for both home usage and business application.
✔️ MODERN AND SLEEK: The shiny mirror-like finish makes this modern mailboxes for outside the chic mailbox for your home or business. The silver color of this wide mailbox will look beautiful on brick walls and wooden walls of all styles and colors.
✔️ HARDWARE INCLUDED: Our wall mount mail box comes with mounting hardware so you can install and use the stainless mailbox immediately! No need to spend additional time and money to buy screws and bolts for your wall mounted mail box, we got you covered.