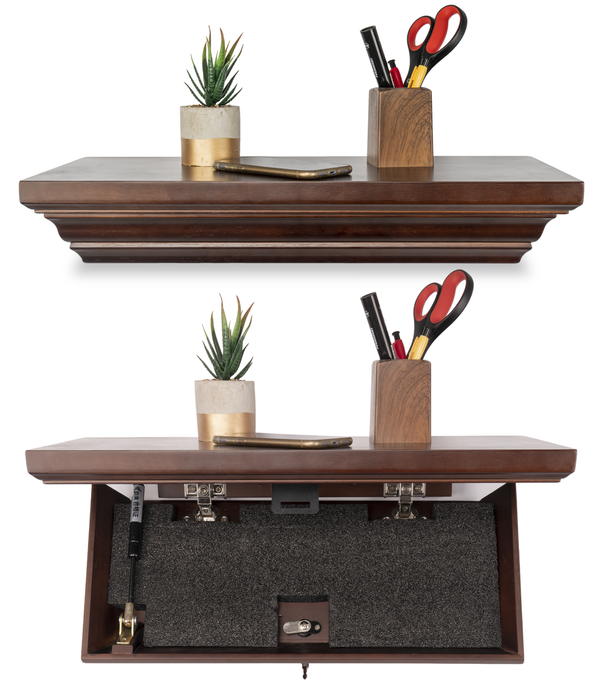 G30 - Compact Gun Shelf with Trap Door, Compact Gun Storage with Key Lock, Easy Installation, Secure & Safe Hidden Concealment Compartment with Gun Storage Boxs | 22.5''L x 10.25''W x 4''D
🔒𝐒𝐄𝐂𝐔𝐑𝐄 𝐇𝐈𝐃𝐃𝐄𝐍 𝐂𝐎𝐌𝐏𝐀𝐑𝐓𝐌𝐄𝐍𝐓:Hidden compartment Gun Safe with Key Lock and quick accessibility to protect yourself and your family. Equipped with built-in emergency lock out protection, easily customizable foam cutout to fit a variety of guns

🔒𝐁𝐋𝐄𝐍𝐃𝐒 𝐈𝐍𝐓𝐎 𝐀𝐍𝐘 𝐑𝐎𝐎𝐌:Handcrafted wood with the appearance and feel of high-end furniture, fitting in virtually any room whether it be your foyer, living room, home office, bedroom or even bathroom

🔒𝐄𝐀𝐒𝐘 𝐈𝐍𝐒𝐓𝐀𝐋𝐋𝐀𝐓𝐈𝐎𝐍:Can be quickly mounted within 10 minutes of opening on any wall in your home or apartment with no additional supporters or sheetrock cutting needed

🔒𝐓𝐀𝐂𝐓𝐈𝐂𝐀𝐋 𝐓𝐑𝐀𝐏𝐒:Environmentally friendly wood,Key lock, lock and unlock super fast. It can be used as decoration and won't attract others' attention

🔒𝐃𝐈𝐌𝐄𝐍𝐒𝐈𝐎𝐍𝐒:The G30 Shelf are 22.5"L X 10.25"W X4"D with a 19.5" x 8" interior storage space and 0.5" thick adhesive customizable foam cutout to place your guns.