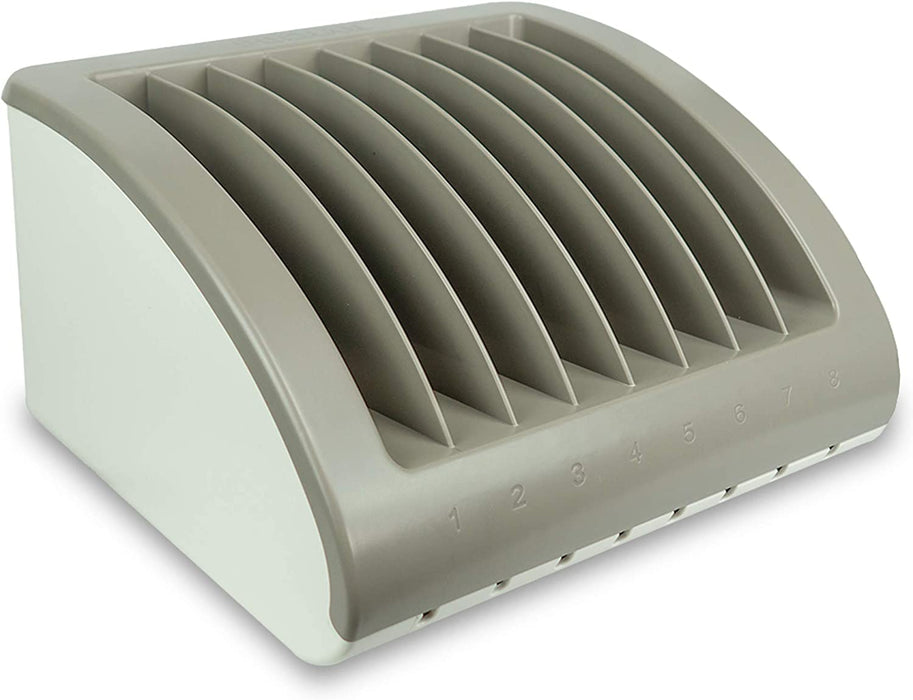 Y608A - 8-Unit Charging Station for Laptops and Tablets
8-Device Laptop Charging Station - Laptop Storage Rack for Multiple Laptops - Chromebook Charging Station for Home, Office, and Classroom - Fits 14-inch Screensize and 1.3-inch Thick Laptops & Tablets
FOR LAPTOPS & TABLETS: Measuring 14.75'' x 12.75'' x 8.25'', this AC charging station has the universal compatibility for devices up to 14-inch screensize, including Chromebook, Surface Pro, MacBook, all iPad generations, Samsung Galaxy, regular laptops, and more.
FITS DEVICES WITH COVERS: Whether it is an iPad, an e-reader, or a Chromebook with covers and cases, we guarantee it will stay safe and secure in this charging rack. Store and charge 8 devices (up to 14-inch and 1.3-inch thick) in this commercial charging station!
STORE, CHARGE, ORGANIZE: Charge your devices on the outer racks, store your chargers in the inner dividers, and organize the charger cords in the back! Our innovative user friendly design will keep your cords secure, neat, and organized in this multiple laptop organizer.
QUALITY POWER STRIP: The power strip contains surge protection for avoiding voltage spikes. This means you are getting a store and charge rack that is safe and properly manufactured, so you can use the charging station with no worries at your school, clinic, office, and more.
STANDARD SIZE FOR MULTI-USAGE: Whether you decide to carry this laptop organizer by hand or transport it using our AV cart (sold separately), this Chromebook holder can be moved easily between classrooms, offices, hospital rooms, and warehouse spaces.